Military Resource Fair - Chagrin Falls, OH - October 13
Thursday, Jul. 20th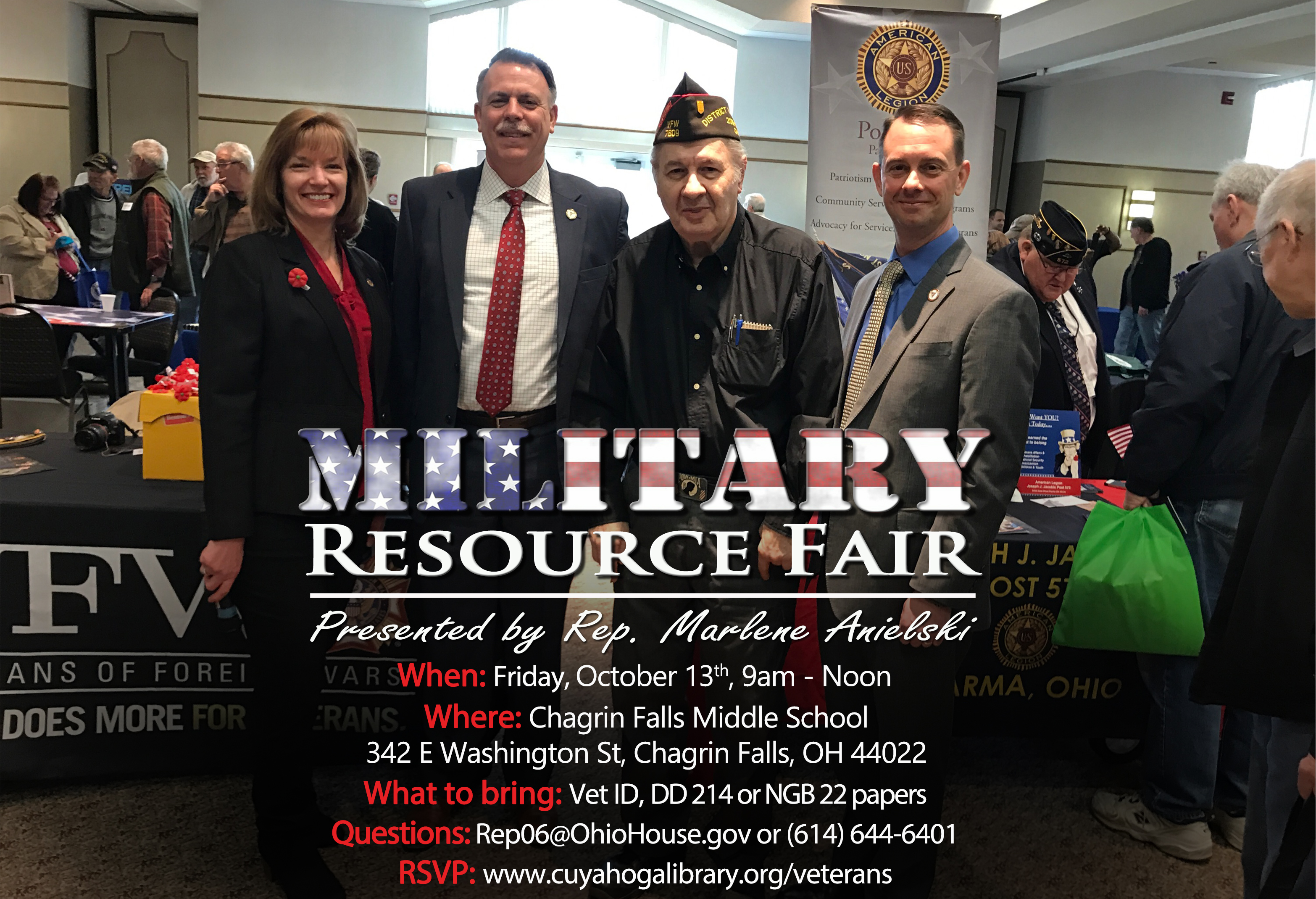 Rep. Anielski to Host Military Resource
Fair in Chagrin Falls on October 13th
COLUMBUS—State Representative Marlene Anielski (R-Walton Hills) is joining with the Chagrin Valley Chamber of Commerce and the Cuyahoga County Public Library to host a Military Resource Fair on Friday, October 13th.
The event will take place at Chagrin Falls Middle School and will feature a variety of organizations geared towards helping those who have served our country in any era, their spouses, and families. Throughout the day there will be agency representatives who can help military personnel or their families with benefit questions, employment opportunities, and many other military related areas. The event is completely free and open to the public. Free continental breakfast, Veteran ID's, haircuts, massages, and additional offers will be available to those in attendance.
Date: Friday, October 13, 2017
Time: 9am-12pm
Location: Chagrin Falls Middle School (342 E. Washington Street, Chagrin Falls, Ohio 44022)
Bring: DD 214 or NGB 22 discharge papers. If discharge papers are not available, please bring the social security card of the military personnel.
"All of our military personnel have given personal sacrifices in leaving their loved ones to protect our freedoms," Rep. Anielski said. "It is my intention to make sure that all those who have served, no matter in what capacity and no matter what era, are aware of the benefits and services available to them during the Military Resource Fair."
Please RSVP at www.cuyahogalibrary.org/veterans
For more information, please contact Will London at (614) 644-6041 or William.London@OhioHouse.gov