Community Club
Ladies Night Out - Book Club - "This is How It Always Is" 1/16/19
Wednesday, Jan. 2nd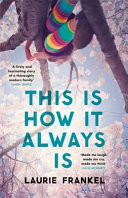 "This is How It Always Is" by Laurie Frankel
Rosie and Penn always wanted a daughter. Four sons later, they decide to try one last time - and their beautiful little boy Claude is born. Life continues happily for this big, loving family until the day when Claude says that, when he grows up, he wants to be a girl. As far as Rosie and Penn are concerned, bright, funny and wonderful Claude can be whoever he or she wants. But as problems begin at school and in the community, the family faces a seemingly impossible dilemma: should Claude change, or should they and Claude try to change the world?
Meet at the Community House Parlor at 7:00 pm. The Gates Mills Library will have a few copies of the books six weeks prior to each meeting date. The event is open to Community Club members and their guests. RSVP to Lisa Reid at larworkerscomp@gmail.com.
Gates Mills Library will have copies of the books at the desk one week after the prior book club discussion date. Please call 423-4808 or stop by to reserve your copy.
Let's get reading!!!

Event Date
Wednesday, January 16, 2019 - 7:00pm
Event Location