Community Club
Ladies Night Out - Book Club "The Women in the Castle" 8/17
Thursday, Jun. 1st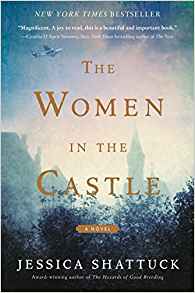 "The Women in the Castle" by Jessica Shattuck
Set at the end of World War II, in a crumbling Bavarian castle that once played host to all of German
high society, a powerful and propulsive story of three widows whose lives and fates become
intertwined.
We will meet at the Community House Parlor at 7:00 pm. The Gates Mills Library will have a few copies of the books six weeks prior to each meeting date. The Club is open to members and their guests. RSVP to Lisa Reid at larworkerscomp@gmail.com.
Gates Mills Library will have copies of the books at the desk one week after the prior book club discussion date. Please call 423-4808 or stop by to reserve your copy.
Let's get reading!!!

Event Date
Thursday, August 17, 2017 - 7:00pm
Event Location