Posted Sep. 11th

Saturday, October 7, 2017 - 9:00 AM - 12:00 PM
Gates Mills Residents Only
Electronic Equipment Recycling - NO TVs!
Bring your retired electronic equipment to the Gates Mills Service Department to be recycled....Read more
Posted Jul. 31st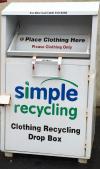 Do you have usable clothing that you no longer wear but don't want to just throw away? Coming soon to the Village's Service Department Parking lot is a "Simple recycling" clothing bin.  
What happens to the collected clothing?
A: All of the materials are graded and sorted locally and/or regionally based on quality and condition. The top...Read more