Pumpkin Carving/Decorating Contest
Thursday, Oct. 8th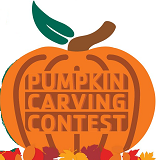 PUMPKIN CARVING OR DECORATING CONTEST
Turn in dates: Wednesday, October 27 or Thursday, October 28
Turn in times: 9:00 A.M. - 5:00 P.M.
Turn in location: Town Hall, 1470 Chagrin River Road.
OPEN TO ALL VILLAGE RESIDENTS. NO AGE REQUIREMENTS. NO LIMIT ON THE AMOUNT OF ENTRIES.

Would you like to help decorate Village Hall grounds for the Drive-thru Trick-or-Treat?
Are you looking for a fun, family activity?
Would you like to show off your mad carving skills?
If you answered "YES" to any of these questions, than this contest is for YOU!!!
Carve or decorate your own pumpkin(s) or gourds(s). Bring it (them) to Town Hall on Wed, 10/27 or Thurs, 10/28 any time from 9 A.M.. - 5 P.M.. For each pumpkin entered, give it a name and please include the following information:
Name of your creation, Your Name, address and phone number (where you can be contacted if you win!), age(s) of who decorated the pumpkin, (Adults can just say "ADULT" if you would prefer not to disclose your age!)
These pumpkins will be showcased for all to see.
Prizes will be awarded for the best in various categories.
GOOD LUCK. We can't wait to see how much talent we have in the Village of Gates Mills.
Event Date
Repeats every day 2 times.
Wednesday, October 27, 2021 -

9:00am

to

5:00pm
Thursday, October 28, 2021 -

9:00am

to

5:00pm
Event Location