Thursday, Oct. 26th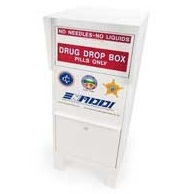 The Cuyahoga County Sheriff's Department is continuing to fight the ongoing battle against the heroin and opiate epidemic. As part of its prevention effort, the CCSD has provided over 42 municipalities across Cuyahoga County with Drug Drop Boxes.
Drug Drop Boxes provide a safe, environmentally friendly way for citizens to dispose of their unwanted or unused prescription drugs. Unused prescription drugs are typically the gateway to heroin abuse, as over 70% of Americans misusing painkillers obtain them from friends or relatives.
Since 2013, the CCSD has destroyed over 35,000 pounds of prescription drugs.
Gates Mills has installed a Drug Drop Box at Town Hall, 1470 Chagrin River Road. It is located by the North side door of Town Hall and it faces the Community House building. This location is under 24/7 camera surveillance.